1
Ferry Handjojo/dry-cell Batteries/cv. Starindo Gemilang.
Dear Sir/Madam, (HS 8506)
We would like to offer : dry-cell battery. For household usage, mostly use in flash light. Size : R20, R14, R6. Brand : ABC®. Capacity : 1.5 Volt. Leak-proof, long-lasting, widely use & export quality. No mercury added. Alkaline battery also available in size : R6 & R03. Produced under ISO 9001, 14001 certified manufacturer. Product of Indonesia. For any interested parties, pls kindly contact for further details. Thank you.


Date Post: 14-Jul-2013
Pages:
electronic indonesia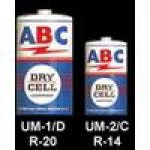 Ferry Handjojo/dry-cell Batteries/cv. Starindo Gem
Tel: 62-81-23004657