1
Ferry Handjojo/tarpaulin/cv. Starindo Gemilang
Dear Sir/Madam, (HS 6306)
We would like to offer: tarpaulin. Material : High Density Polyethylene (HDPE). Mesh : 7x7, 8x8, 10x10, 12x12. Denier : 900D & 1000D. Laminated : LDPE (3 micron). Weight (gr/sqm) : 80, 90, 100, 110, 120, etc.. Various interesting colors. Available in roll or custom made. Usage : equipment cover, painting tarp, pick-up canopy, emergency shelter, ground cover, awning, etc.. Produced under ISO 9001 certified manufacturer. PVC and Cotton tarpaulin also available. Cotton tarpaulin could be made of raw cotton or recycled cotton yarn. For any interested parties, pls kindly contact for further details. Thank you.

Jl. Raden Wijaya #30, Mojokerto 61321, East Java, Indonesia.

Date Post: 17-Aug-2012
Pages:
indonesia plastics product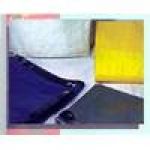 Ferry Handjojo/tarpaulin/cv. Starindo Gemilang
Tel: 62-81-23004657